Would you like to sing better?
The voice has been one of my main tools for going on twenty years now. Since I found the Superior Singing Method, I am finally using specific tools to make my voice more stable, more robust and more reliable.
I always loved to sing. But, I was shy, and very soft-spoken. When I was about 23 years old, I had a major realisation: Whenever I tried to make my voice more emphatic, I ended up sounding angry. Also, if I was stressed, I would notice a whirring or ringing in my ears.
This is major, people! In order to move in this world, you have to make yourself heard and also listen to others.
A little music a lot of the time
My steps into music have been small but steady. Although I picked up the bass and played in an Ottawa band called PLANK, I knew that I didn't want to be a professional musician (even if I had the talent snort!) Having watched a few friends "make it", I saw the entertainment business as a stressful, uncertain place where drug and alcohol misuse was rife and from which artists could be spit out, broke and broken, at any time. No, I knew myself even then that I do NOT have the character for that sort of thing. I am way too sensitive. I used my brains, studied at Uni, kept my nose to the grindstone…but still managed a massive social life and huge enjoyment of music.
When I was in London, I got into electronic music, specifically hard house and late-90's trance. I helped out on two promotions (Trinity at the Chunnel Club and Fahrenhite at The Soundshaft behind Heaven) doing the VIP list, taking people's cash, helping the dj's get into a packed club at 4AM…it was super fun, I didn't sleep a Saturday night in over a year.
Singing and strumming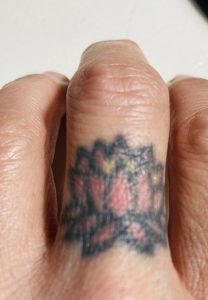 When I decided to stop all that nonsense, (haha), I bought an acoustic guitar and started doing open mics. My first forays into recording were weird, to say the least. Hearing your own voice recorded is extremely strange and basically incredibly HUMBLING. You realise that you don't sound that good at all. OOOOOOOOOHHHHHHHH SHIT. How I wish that I had found the Superior Singing Method back then!
When I was in NYC in about 2001, I got this tattoo on my finger. Like that string you tie around your finger to remind you of something? This was to remind me to heal my voice.
Well, I kept bumbling along. During my yoga teacher training, I studied and practised mantra. I sought a singing teacher. But, it's hard to find a singing teacher when you're no longer in a place like London where modern music is celebrated.
Finally, I found the Superior Singing Method. From the first week I started to see improvements. This course is amazing. It is not expensive, you can do it from home at a convenient time and the teacher, Aaron Anastasi, is a great motivator. (He is also a life coach).
Invest in your voice, invest in yourself
A calm, beautiful, stable voice is a gift to yourself and to others. Here is my speaking voice. I also do some voiceover work 😉