Please go to Rose Tint Your Life for information on my wellness and yoga projects. From now on – June 2020 – this domain will be used for my music and coding.
Music
I have only a few songs up on my Soundcloud page, if you would like to check it out. Love and Faith is one of my favourite songs. I compose a lot, a record a little.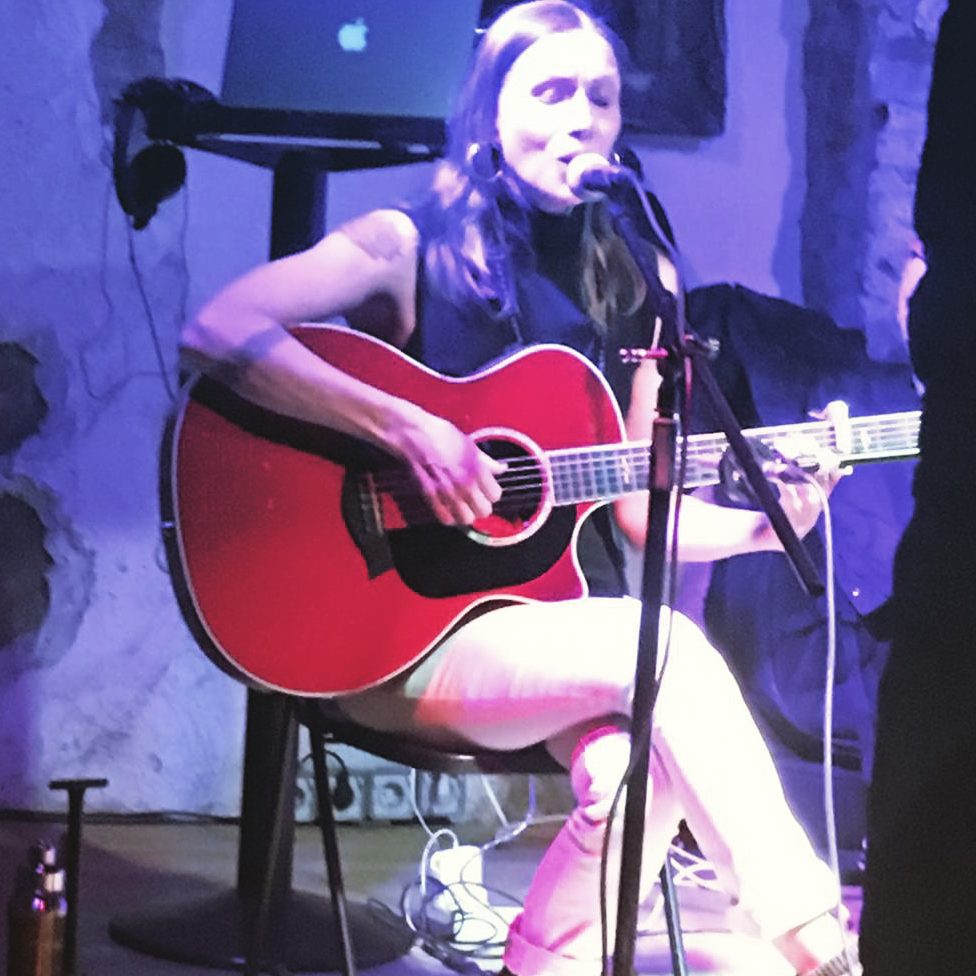 I have a music blog where I post tracks that catch my ear. It has been going for quite some time now and I really love some of the music up there. Check it out!
I use Ableton Live as my DAW. I have an Arturia AudioFUSE sound card and an Arturia Analog Lab MIDI controller. My main mic is a SHURE SM7B. I play a Taylor 414CE acoustic guitar with a beautiful red finish.
**update 4/5/21 – I bagged a deal on a pair of ADAM Audio F5 Studio Monitors. Incredible sound and clarity. I shelled out for a pair of ISO Acoustics stands, in order to get the best position possible in my little studio.
Here is my Firewater EP on the groovy as fuck Bandcamp: Rachel Rose – Firewater EP
I have grown as a performer and as a songwriter and am preparing to unleash some groovy new material on the world. Watch out.
Here is my bio, and to the right, a photo of me when I was collaborating with Anja Klove in the "Rose and Clover Project".
Rachel awakens the passion for human (r)evolution. Her simple, sensual and silvery songs slide between folk and spiritual pop – a fun and sexy dance towards consciousness.
Coding
I worked in Internet Networking from 1997-2002. It was a short, intense period. I am of the generation who plotted linear regressions on graph paper. I finished University (B.Tech Applied Chemical and Biological Sciences, Ryerson U, Canada), only to realise that I had missed out on this amazing revolution called computing. I set out to rectify that. Well, actually, I did own a Mac Classic in my last year at University. Here I am looking pale in a Canadian Winter.
Tech Baby Steps
I moved to London, England, and scored a job in the computer centre in Wimbledon Library. Quickly realising that my clients knew nothing, I RTFM and became somewhat of an expert on Windows 3.1 and 95 and MS Office. We had a dial-up connection (modem!) when I started working at Input/Output Centres), although we soon installed ISDN and then – gasp! – a LAN.
Adventures in the WAN
INSNet/EDEX, our ISP soon recruited me. First off, I installed email accounts, soon moving onto DNS records and then, finally, leased lines. I learned UNIX and the shell, CISCO and TCP/IP routing and all sorts of fun stuff like HTML, CSS, some Perl and PHP and etc. It amazes me to remember the first time someone talked about "Google", or blogs, or Youtube!
Moving up the ladder with jobs at Pilot Network Services (R.I.P.) and then DIGEX/Worldcom, I took on Sun Certification and became a CCNA. The Dot-com bust burned me out, and also my mum died, and it wasn't a happy time for me. I became a therapist, studying massage, nutrition and yoga. I am super chill, happy inside, with a clear mind and healthy body. This was my long sabbatical and healing. We all know, now, that humans need to be whole within in order to function well in work, society and at home.
But tech never went away. I love to delve into the backend, hack HTML, CSS and PHP, maintain my own web sites and LAN and got very good at Open Source tools like WordPress, Softaculous, Inkscape, GIMP and LibreOffice.
Back on the Code Again
So, now I am working through the freeCodeCamp curriculum, and looking carefully at the world of UX. I am blogging about my adventures in code, if you're interested.